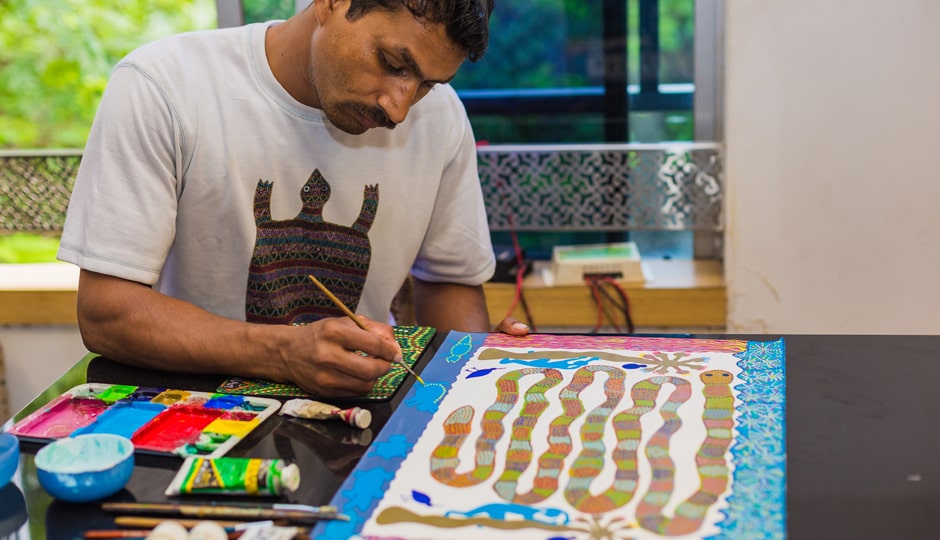 Telling it Together: Collaboration between designers and craft communities
PI: Prof. Nina Sabnani, IDC School of Design

In 2003 UNESCO's Convention for the Safeguarding of Intangible Cultural Heritage came into force. Intangible culture was described as traditional, contemporary and living at the same time. Intangible culture is defined as being inclusive, community based and representative. The convention emphasised the fact that intangible inheritance could be kept alive only if it has relevance for its community and was continuously recreated and retransmitted from one generation to another.
Storytelling is one form of intangible heritage that has been preserved and conserved in multiple ways. Film and animation are newer forms of storytelling but share some features with the oral traditions. The Bhil community has a rich resource of oral narratives that remains untapped and unknown. There is potential for collaboration to create multiple media artefacts to develop new audiences and economic opportunities for a community that is one of the largest and oldest tribal communities. This project aims to create animated films and illustrated books in collaboration with Bhil community and designers.
The team's movie, `Hum Chitra Banate Hain' has won much critical acclaim, ever since. It has been selected to feature in many other film festivals: 4th Festival Cinema Libre, Hamburg; Cine Club Mal de Ojo, Ecuador; the Edinburgh Short Film Festival, UK; Jaipur International Film Festival and the Jio MAMI Film festival in Mumbai, Smile International Film Festival for Children and Youth(SIFFCY), New Delhi.