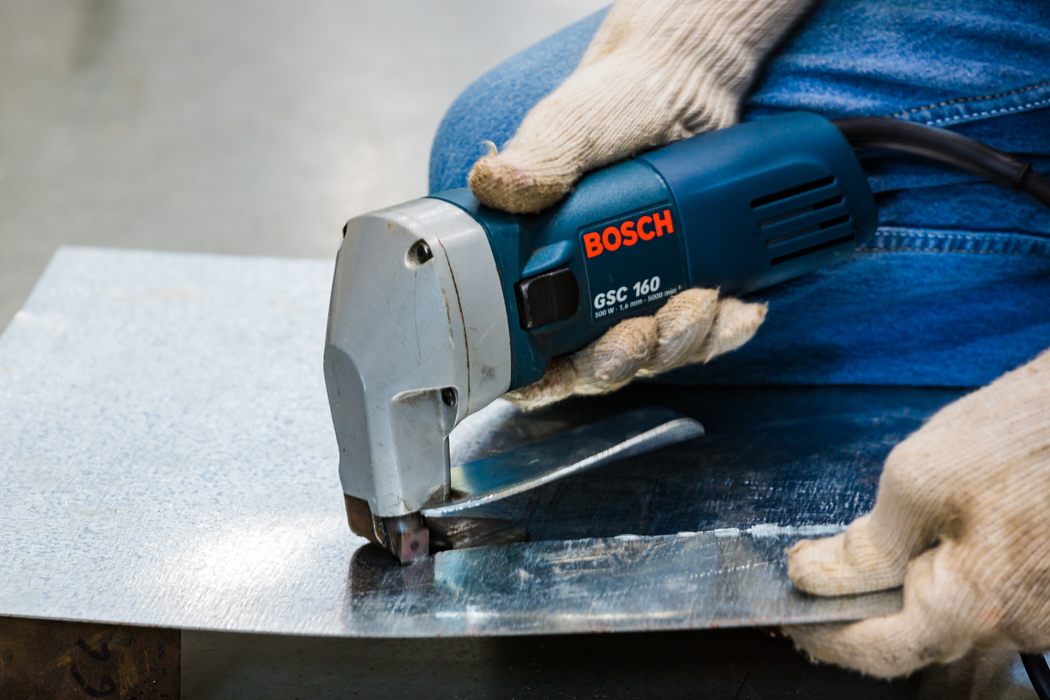 Shear Machine (Bosch)
A power shear is electrically powered hand tool used to blank large pieces of sheet metal. This is used to cut straight lines and relatively large radius curves.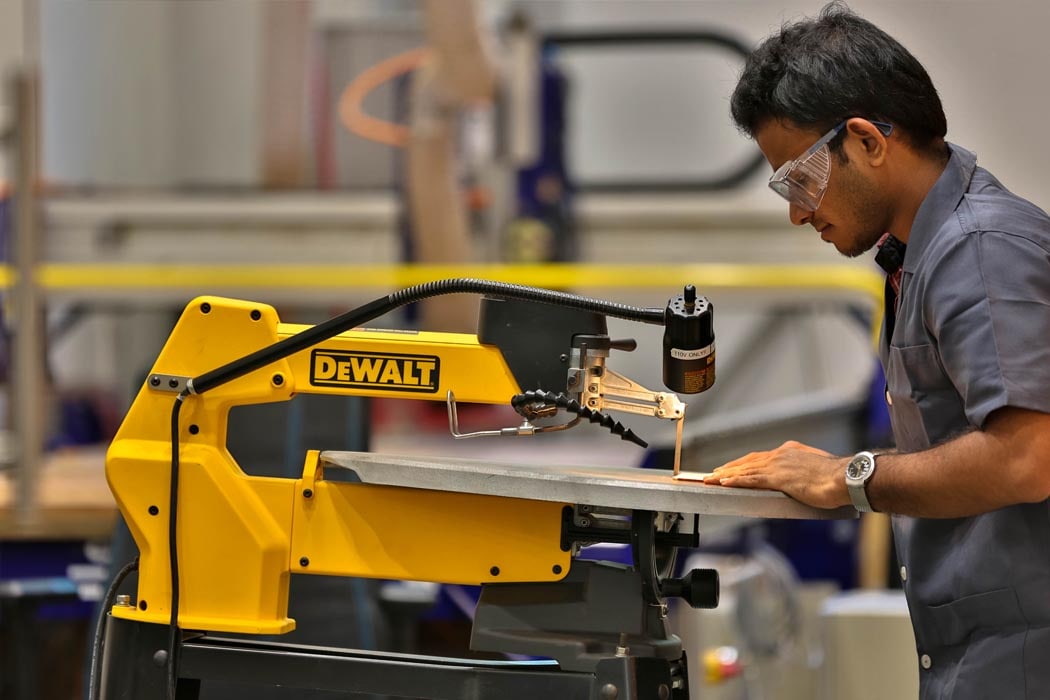 Scroll Saw (DH7880)
Scroll saws are often used to cut intricate curves and joints, a task they can complete quickly and with great accuracy. They can also be used to cut dovetail joints and are a common tool for thicker intarsia projects. When a fine blade is used, the kerf of a scroll saw is all but invisible.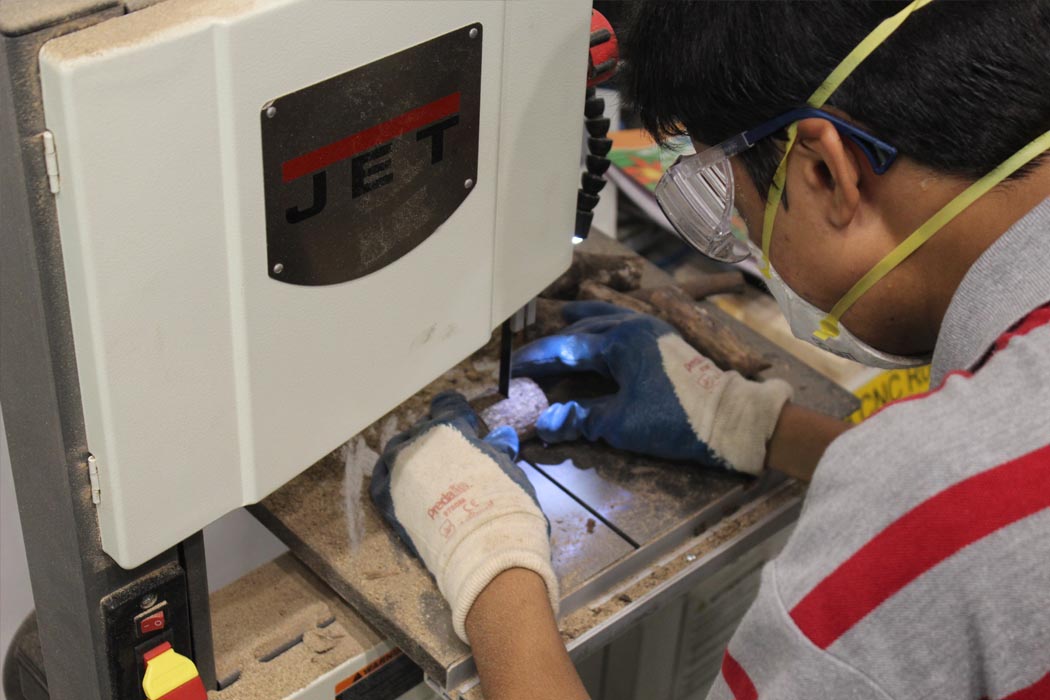 Reciprocating Saw (JET)
In reciprocating saw the cutting action is achieved through a push and pull reciprocating motion of the blade. It provides the ability to cut through the toughest materials with ease, speed and comfort.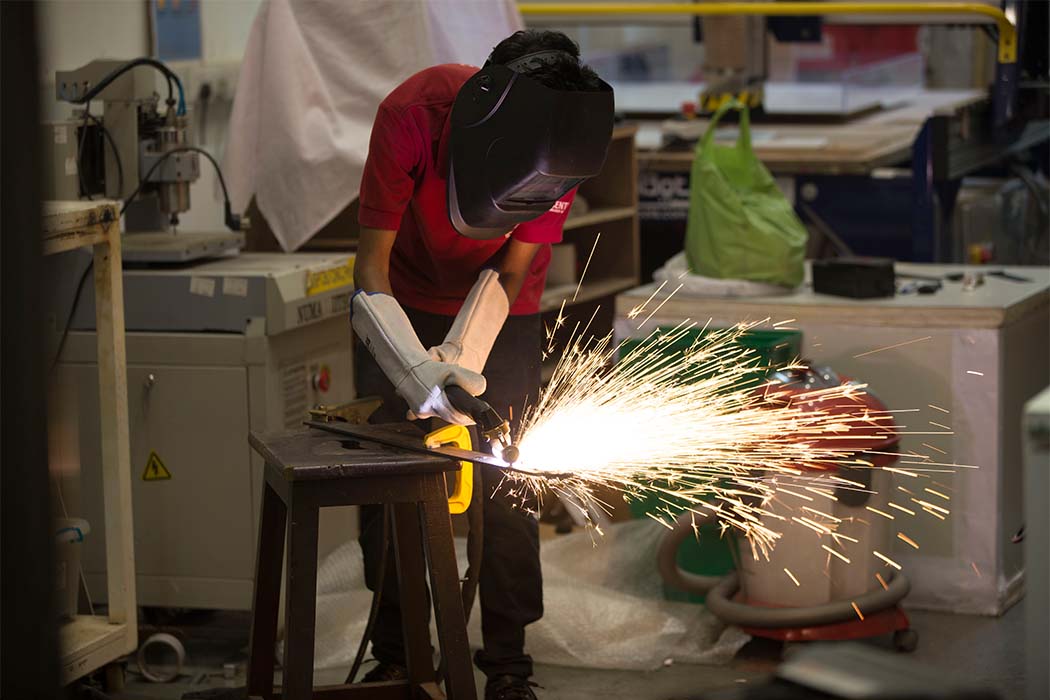 Plasma cutter
Plasma cutter sends pressurized gas, through a small channel. In the center of this channel, there's a negatively charged electrode to which when power is applied and the nozzle tip is touched to the metal, the connection creates a circuit. A powerful spark is generated between the electrode and the metal. As the inert gas passes through the channel, the spark heats the gas until it reaches the fourth state of matter. This Plasma Cutter can cut upto 15 mm thick Metal sheets.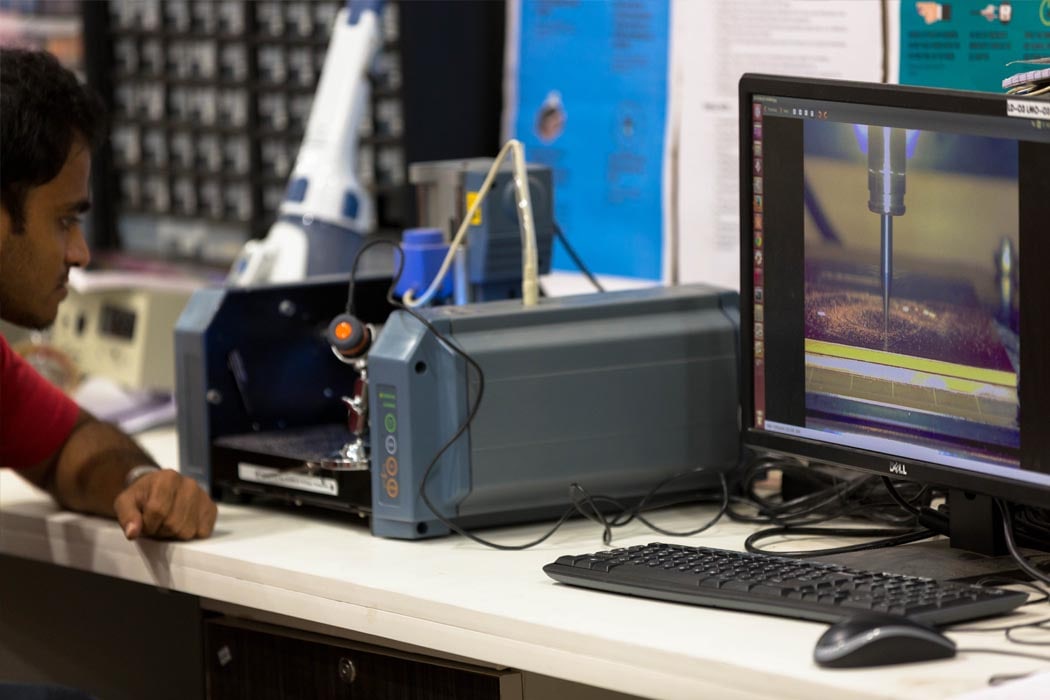 Roland Modula (3D plotter MDX-30)
Capable of scanning and milling, MDX-15/20 is ideal for a variety of product design tasks, including reverse modelling, rapid prototyping, jewellery and model making, and small lot production. Select the spindle tip for state-of-the-art CNC milling, or select the Roland Active Piezo Sensor for precise 3D scanning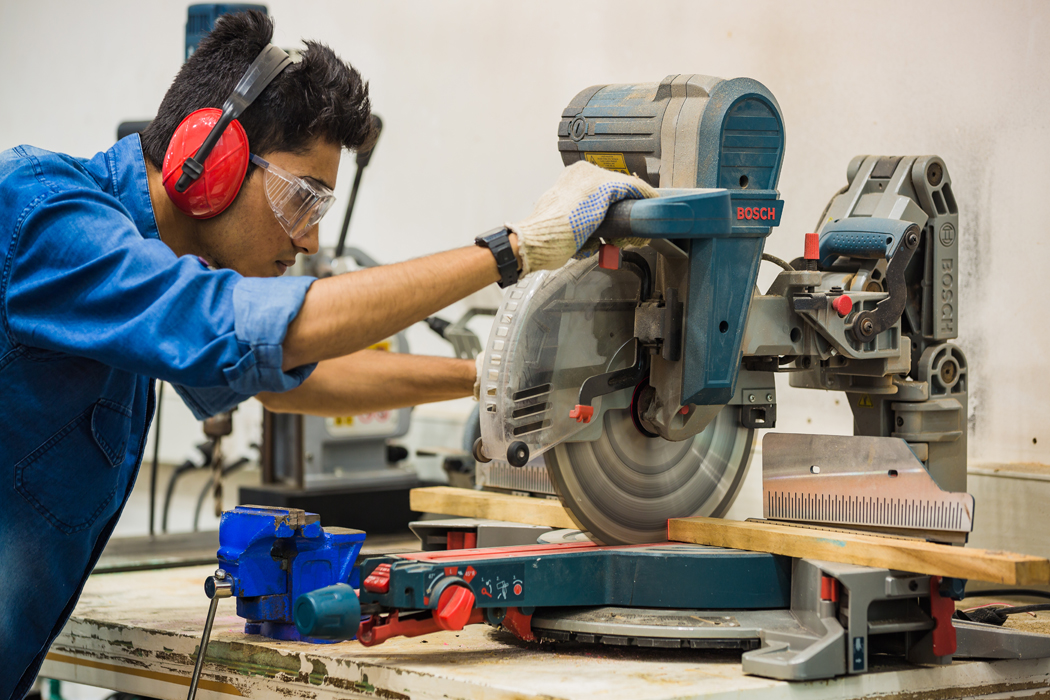 Miter Saw (Bosch)
A miter saw is a saw used to make accurate crosscuts and miters in a work piece. A laser guide provides a precise visual indication of where the cut will be positioned on the work piece. Easily accessed controls for quick and accurate bevel settings base with built-in cast sliding extensions for speed track sliding fences for easy bevel set-ups and increased crown molding cutting capacities. Dual sliding rail design gives the saw superior accuracy. Equipped with an electric brake for quick, repetitive cuts. Stops the blade in seconds.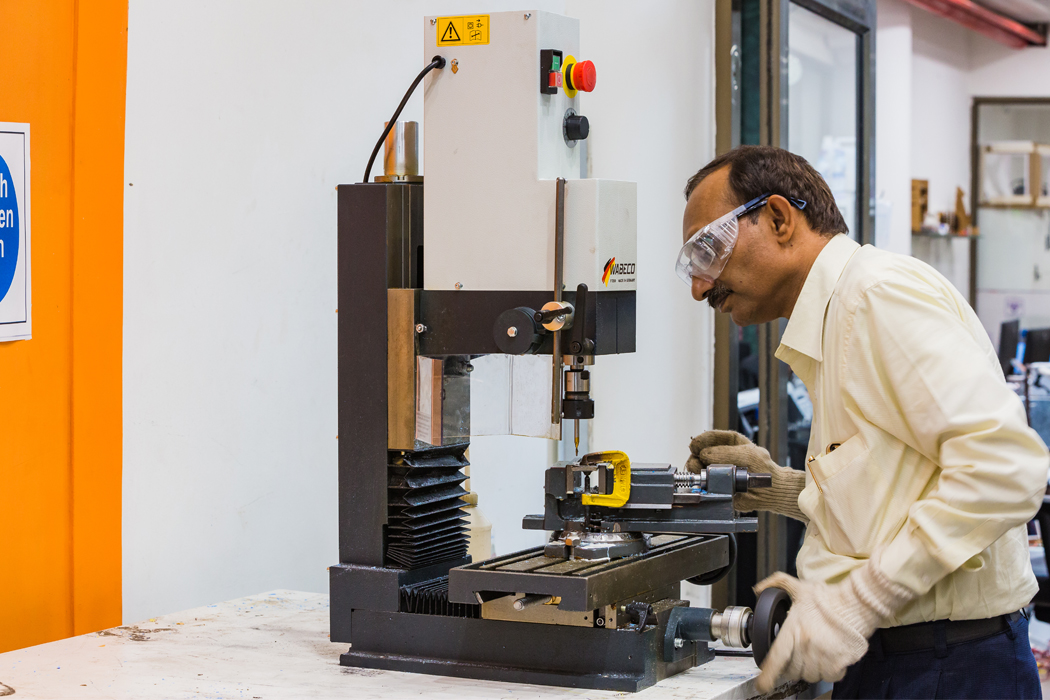 Milling Machine (Wabeco)
Milling Machine uses rotary cutters to remove material from a work-piece by feeding in a direction at an angle with the axis of the tool. It has motor of 1.4kW with 3000 rpm. The Max. working size of the Bed is 450×180 mm, with longitudinal X-Axis 260 mm, transverse Y-axis 150 mm, and vertical Z-axis 280 mm.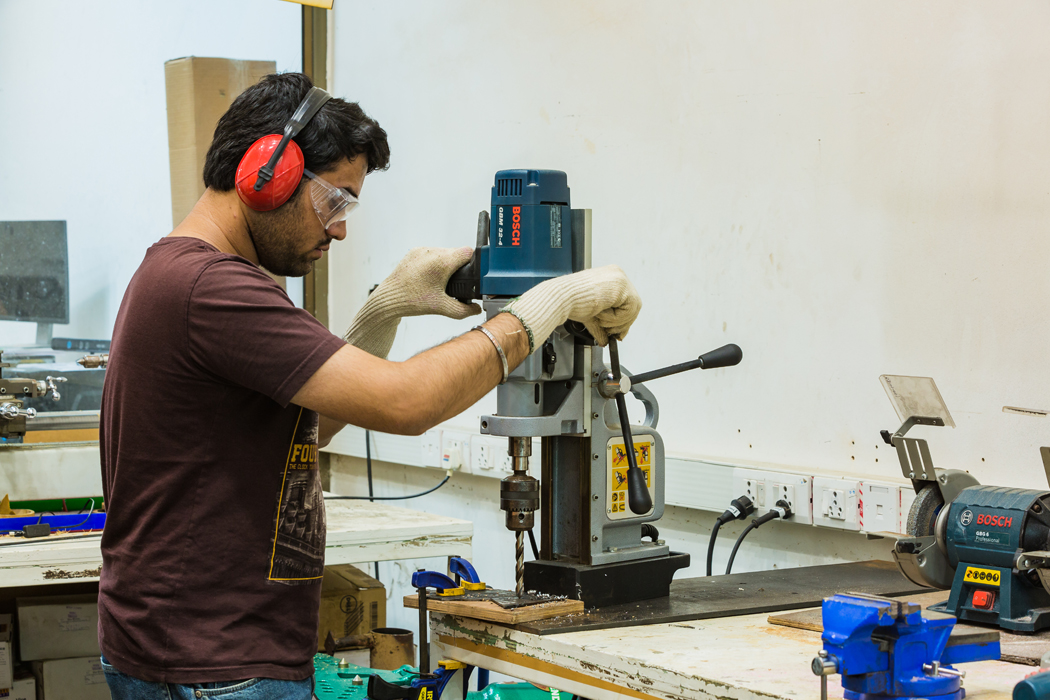 Magnetic Drill Machine
This have a Magnetic base which makes the surface flat while drilling holes. Drilling is a cutting process that uses a drill bit to cut a hole of circular cross-section in solid materials. The bit is pressed against the work-piece and rotated at rates from hundreds to thousands of revolutions per minute. It can be used with various tools like Drilling, Boring, etc.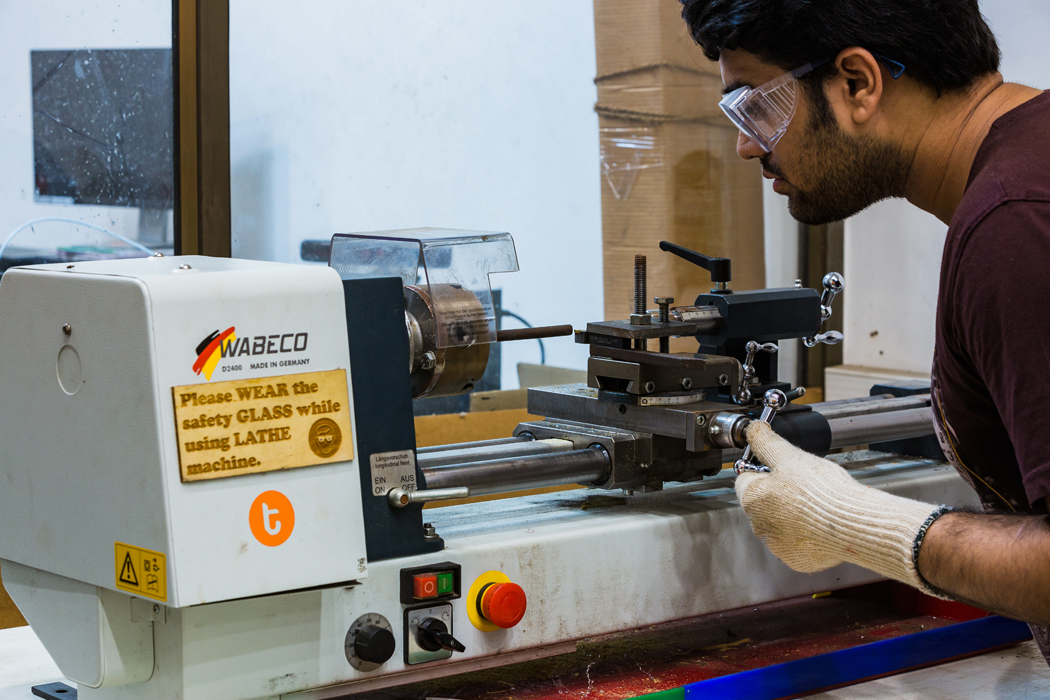 Lathe Machine
A lathe is a machine that rotates the work-piece on its axis to perform various operations such as turning, facing, knurling, drilling, threading, parting, with tools that are applied to the work-piece to create an object with symmetry about an axis of rotation. It has a 3 Jaw chuck of Ø 100 mm with main spindle bore of Ø 20 mm.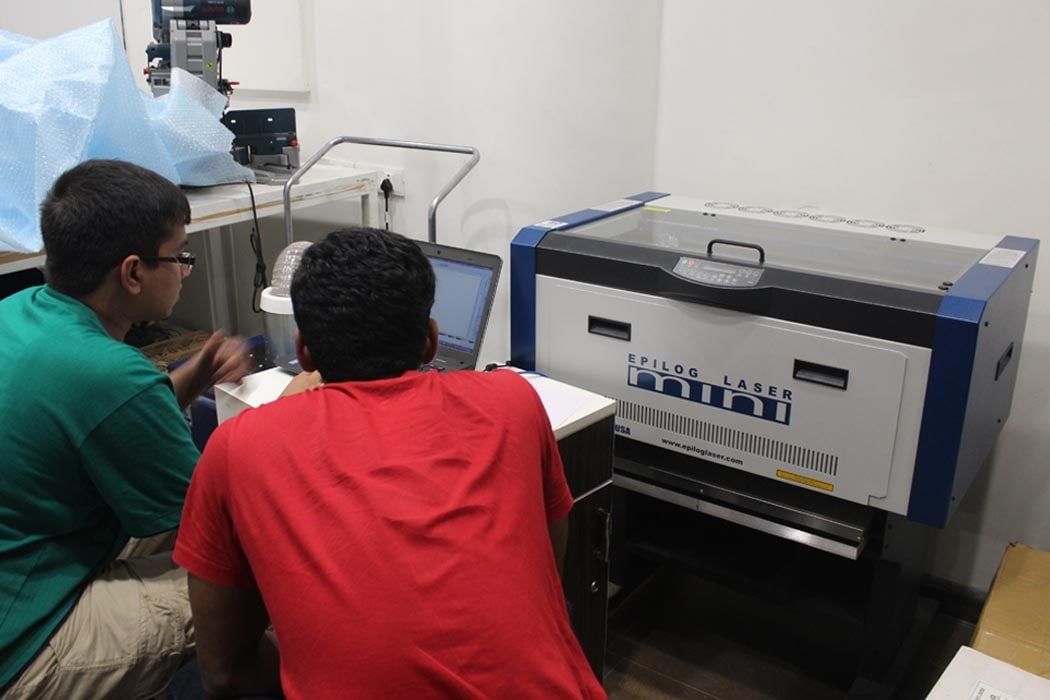 Laser Cutter (Mini/8000)
The laser creates a beam of light that is used to cut through the material, so there is no part of the laser system in contact with the material. For thinner materials, all Epilog laser systems include an Integrated Vacuum Table to hold down the material. You can print to the laser from a variety of programs, including CorelDraw, AutoCAD , Adobe software Inscape.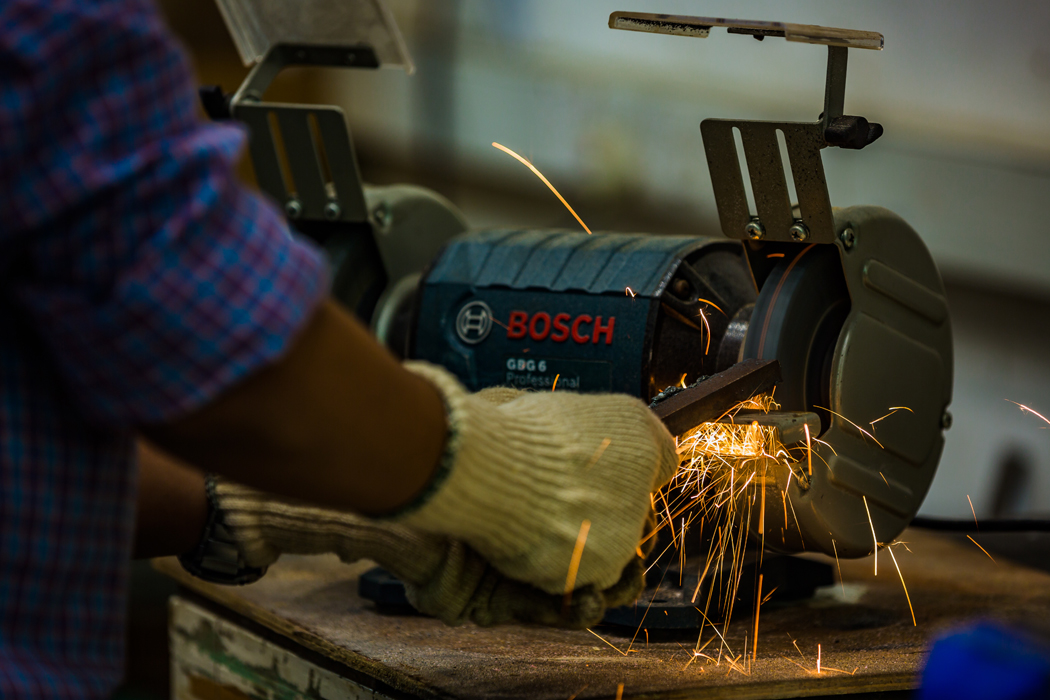 Bench Grinder (Bosch)
Grinder uses a grinding wheel for surface grinding to produce a smooth finish on flat surfaces. It is a abrasive machining process in which a spinning wheel covered in rough particles (grinding wheel) cuts chips of metallic or nonmetallic substance from a workpiece, making a face of it flat or smooth.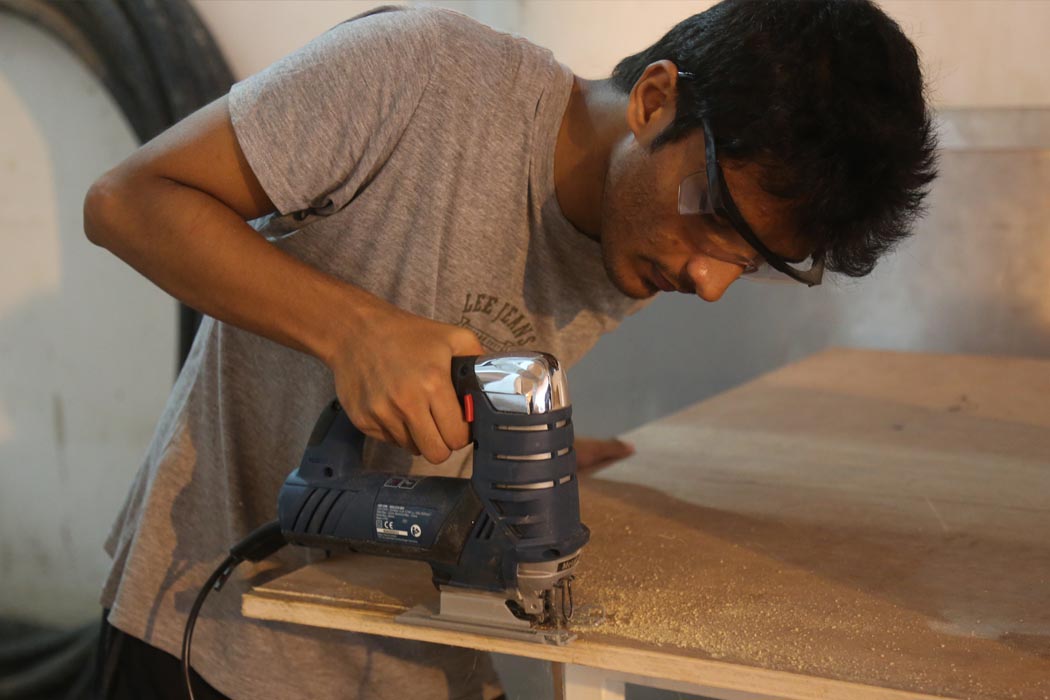 Jig Saw
A usually power-driven saw with a narrow vertical blade, use to cut sharp curves.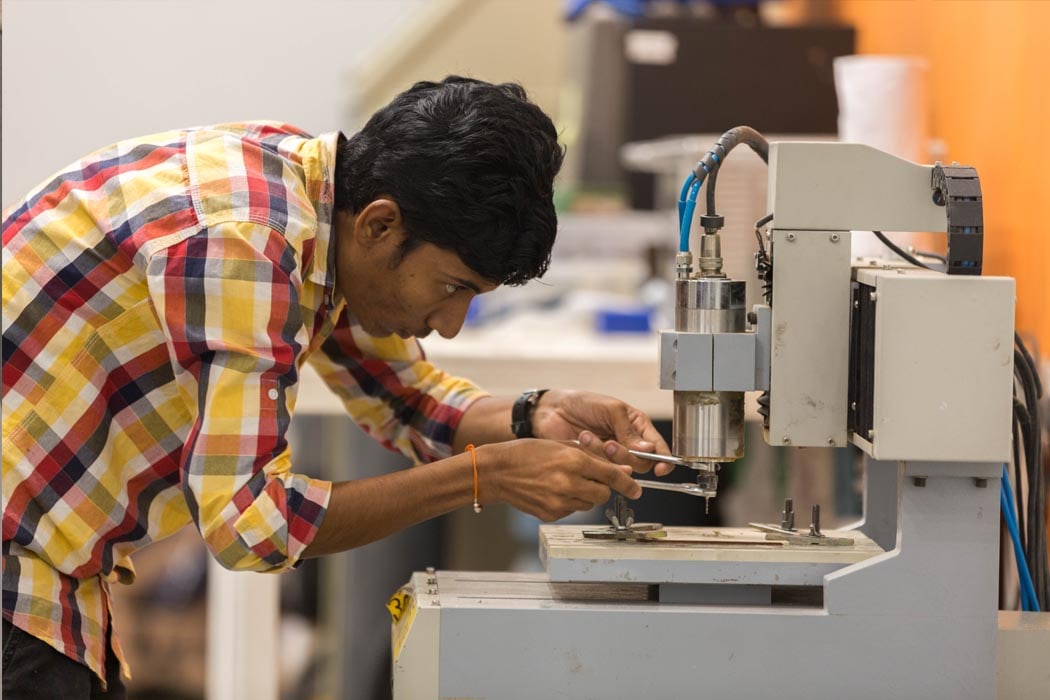 CNC Router (NH3030-PCB)
This is a multi-purpose compact machine and can be used for engraving and cutting all kinds of aluminium and PVC materials such as electrical boxes, hole slots, etc.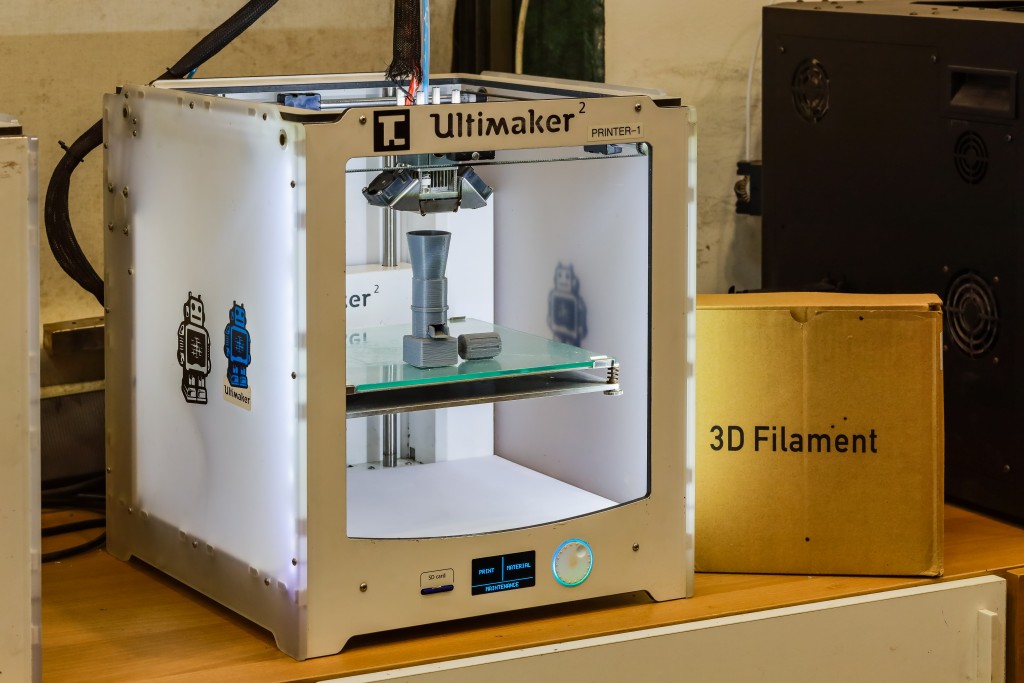 Ultimaker 3D Printer
The printer features a bright OLED (organic light-emitting diode) screen which allows you can print files directly from SD card. The glass-heated print bed accommodates ABS plastic printing (in addition to PLA filament) and the redesigned hot-end was designed with a smaller hot zone to reduce potential clogs and jams.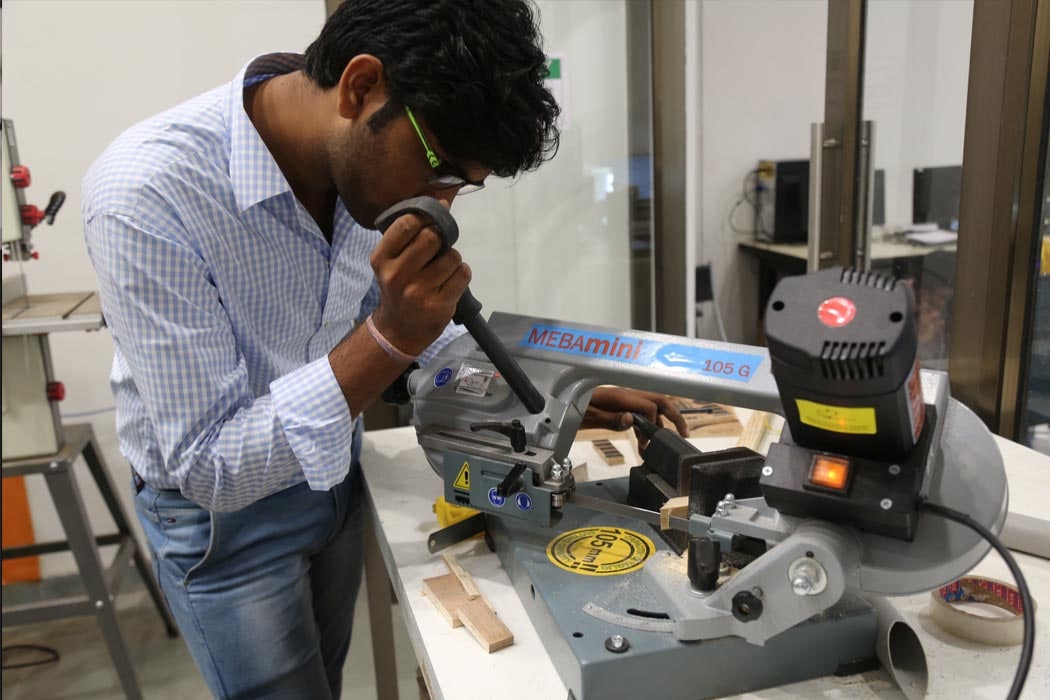 Band Saw (JWBS-100S)
A band saw can be used to cut curves, even in thick lumber, such as in creating cabriole legs, to rip lumber and to crosscut short pieces. The most common use for the band saw, is in cutting irregular shapes and is also used in re-sawing or ripping lumber into thinner slabs. A band saw also makes the smoothest cuts and, with appropriate blade, can be used to cut materials other than wood, including soft metal.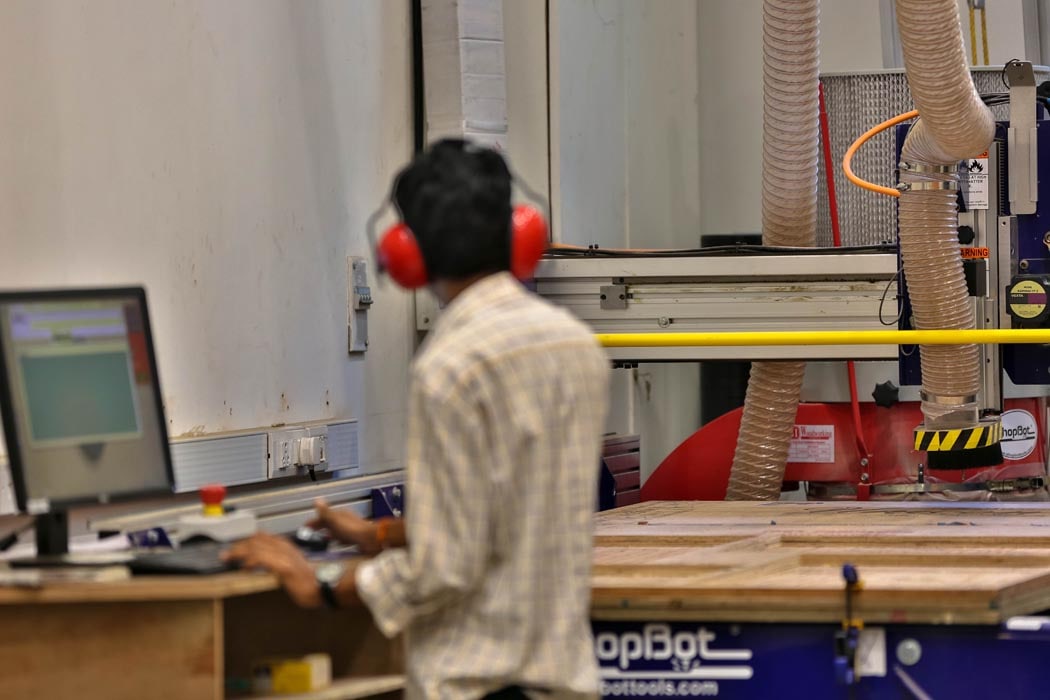 Shopbot
A ShopBot is an amazing do-all tool for precisely cutting, carving, drilling or machining all kinds of things from all kinds of materials. With a ShopBot, you use the included software to design your parts on your personal computer, then, like a robot, the computer controls the cutter to precisely cut your parts