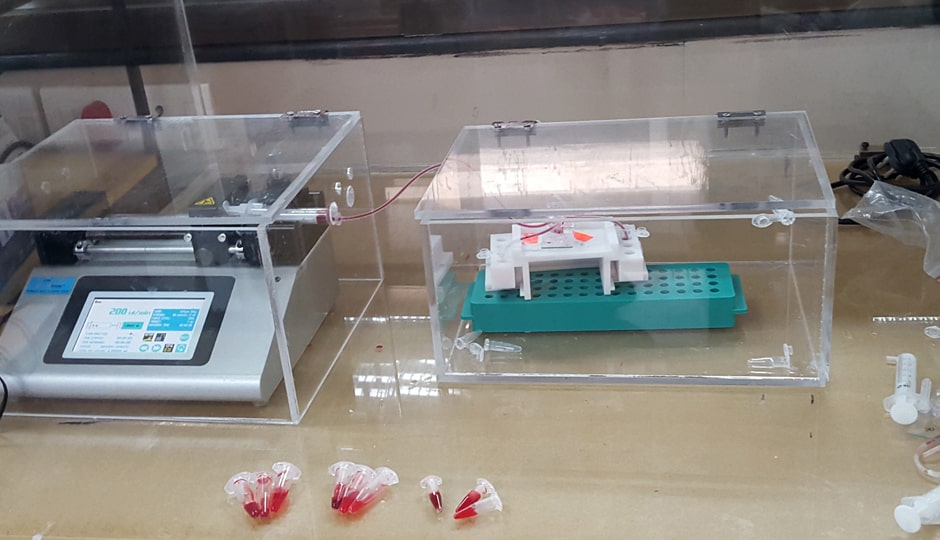 Low-cost point-of-care platform for blood analysis
PI: Prof. Debjani Paul, Biosciences and Bioengineering
Tata Fellow: Shefali Mittal (2014-16)

One of the most common yet powerful diagnostic tests is the blood test. Preliminary screening for a number of diseases such as anaemia, leukaemia, HIV, various infections, etc. can be done by blood cell analysis. Total and differential blood cell counts are normally obtained using haematology analysers, while the more advanced blood analysis platforms rely on fluorescence-activated cell sorters (FACS) to identify different kinds of blood cells.
FACS machines are expensive as they rely on fluorescence technology. There are currently no indigenous cell sorters available in India. Moreover, counting and sorting facilities are available only in specialised pathology labs and hospitals. Hence, there is a strong need for development of a portable and low-cost counter/sorter to identify different sub-groups of blood cells. Such a platform would be particularly useful in primary healthcare centres across India.
This project aims to develop an impedance-based platform to detect different blood cells. It has been shown that dual frequency impedance measurements can identify the sub-populations of white blood cells in frequency space by effectively measuring the cell membrane capacitance and cell size. As this technique does not require labelling of cells by fluorescent molecules, it can be made affordable. The electrical detection set-up can be easily miniaturised, thus, making the device portable. This project also proposes to develop a plastic micro-fluidic cartridge to work with the proposed detection system such that test can be done with very small volumes of blood, unlike the systems currently in use. The project's long-term goal is to use the detection platform to identify foetal cells in maternal blood for foetal genetic testing, to replace risky and invasive diagnostic processes like amniocentesis.