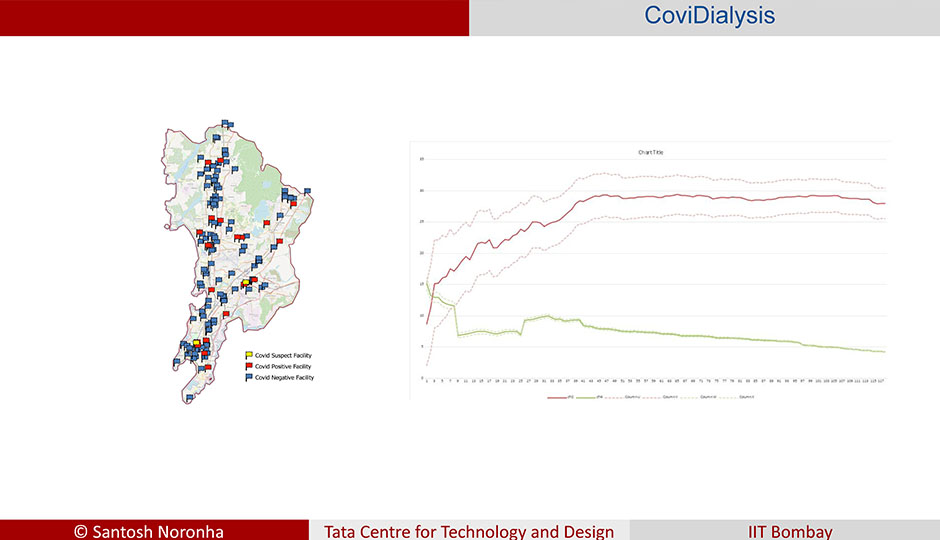 PI: Prof. Santosh Noronha, Chemical Engineering
The CoviDialysis project is a TCTD solution that has been developed at the beginning of the pandemic and is in full use as a service, in a live setting.
In March this year, information was being received that a number of patients with chronic kidney disease (CKD) were being denied dialysis care as they had tested Covid positive or were suspect with the symptoms. Dialysis centres were concerned about contamination and other Covid-related issues.
The designated Covid hospitals had limited dialysis capacity to handle what was a rapidly escalating number of Covid positive outpatients. Consequently, Covid positive or suspect patients were forced to find alternate centres on their own. With clinical evidence from Wuhan and elsewhere in the West, CKD patients were also known to be a patient group with a high case fatality rate on turning Covid positive. Approximately 200 dialysis centres across the Greater Mumbai region have been catering to about 10,000 patients with CKD, with these patients needing dialysis services twice or thrice a week, on a timely basis and towards guaranteeing a fair quality of life.
A logistics-related challenge was thus identified, with the need for an IT platform for better patient management and coordination. The project team, with Prof Santosh Noronha, Professor-in-charge, TCTD, and Dept of Chemical Engineering, and Prof Narayan Rangaraj, from Dept of IE & OR, collaborated with Dr. Vishwanath Billa and a group of other Mumbai area nephrologists to work on engineering a solution. Three engineers from the Telepathology project – Amaldev Venugopal, Venugopal Pai, and Akshay Toraskar, put together the portal.
The CoviDialysis portal was built to facilitate rapid assignment of patients to alternate dialysis centres as a consequence of testing Covid positive. The in-charges of the 200 centres were already in communication via a WhatsApp group. The MCGM mandated that all these centres would now report to the portal via an app, thus enabling the free slots available for patient reassignment as well as handling a list of Covid positive patients.
When a patient turned Covid positive, the original dialysis centre was to immediately communicate via the app back to coordinators manning a dashboard, which then facilitated rapid assignment to a nearby centre with spare capacity for handling Covid positive patients. Both sending and receiving centres would then contact the patient and direct him/her to the new facility. There was a quick turnaround to reassigning patients, in the order of hours. As of early August, approximately 1200 hemodialysis patients have turned Covid positive and are registered in the CoviDialysis system. This could be the largest Covid-dialysis management effort worldwide. A data reconciliation effort is underway towards better understanding of patient progression through the course of the infection and their outcomes. It is painfully clear from the data gathered so far that this is a comorbidity with an extremely high case fatality rate (>15%). This implies that unaffected dialysis patients will continue to seek shelter into the longer term, until an efficacious vaccine is manufactured and deployed. There has also been a group of patients without any CKD, but experiencing severe Covid-related problems and suffering acute kidney injury. They have had to be handled by outpatient dialysis facilities for Covid suspect patients, as they recovered, in most cases, fully.
The CoviDialysis service has been offered to nephrologists at New Delhi and Bengaluru as active Covid patient numbers there increased, but there has been little response. Clearly the MCGM's mandate to the Mumbai-area dialysis centres to cooperate with the coordination effort has been effective, and it could just be that the other cities may need such central mandates.
The source codes for the platform are available as open source, and the data collected into this system would be a resource for further public health discussions.