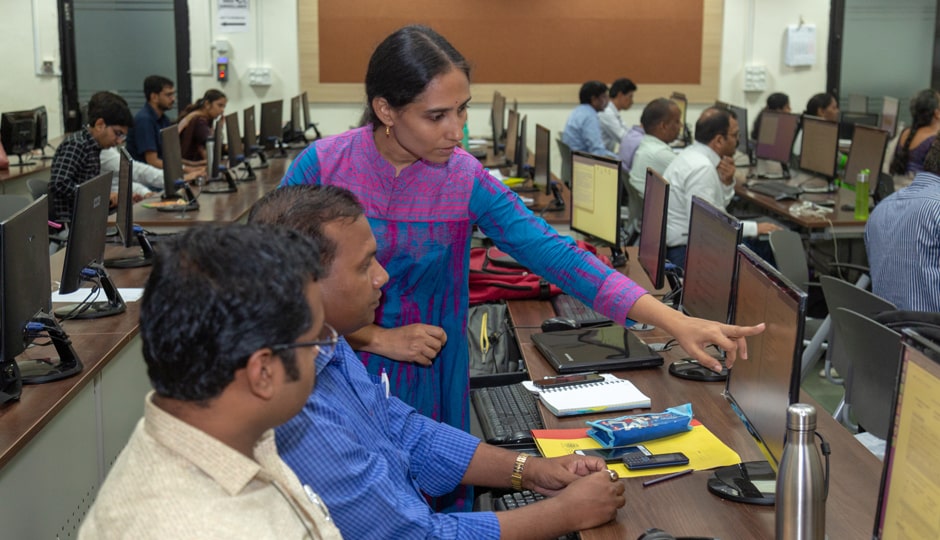 BodhiTree: A Platform for Improving Learning Outcomes using Online Interactive Courses and Assessed Labs (Ongoing)

India produces almost 1.5 million engineers in a year. Data has consistently shown that almost 80 per cent of engineers are not 'employable', and 60 per cent remain jobless after they graduate. The reason is poor quality engineering education especially in the Tier 2 and Tier 3 cities. In these colleges, curriculum and syllabi are outdated, lab infrastructure is poor, teachers have little understanding of the subject, and most importantly, there is very little teaching and meaningful assessment of practical engineering skills. Our solution in the form of BodhiTree platform aims to address this challenge by offering a compelling and feature-rich online platform for hosting of multimedia interactive books with associated auto-graded, or grading-assisted exercises and labs, which can be adapted as courses in a customized manner by local college instructors, or taken independently by students.
We believe that the introduction of interactive multimedia books bolstered with continuous (auto) assessment and lab support would be a revolution in the context of student-learning and effective teaching, especially in higher education, in settings with poor teaching infrastructure. Our platform supports interactivity where we embed questions as part of the multimedia content. As student watch the content, the content is paused periodically to pose auto-graded questions which students get to answer. The multimedia content can be paused at will, giving the students enough time to ponder and assimilate content. They can proceed at their own pace and can watch content at timings of their choosing. Our platform also provides a rich set of features to instructors in conducting classes: 1) a way to impose weekly schedules; 2) monitor if students are watching the videos and answering the questions posed in-between; 3) discussion forum support to facilitate discussion and also identify which topics need additional coverage in class; 4) track student performance in auto-graded homework/in-video quizzes to identify weak students; 5) scorecard to display student performance and promote healthy competition among them; 6) share mid-term/final marks with students; 7) email students to share information and archive the same for future reference.
Labs are an important part of curriculum and our platform supports the same. Multimedia lab manuals can be hosted and students are provided an interface to upload their lab submissions and for teaching-assistants (TAs)/instructors to grade these submissions. For programming oriented courses, it supports an entire eco-system to provide feedback to students while coding and auto-grades programs post submission also handling security/copying concerns.
PI: Prof. Kameswari Chebrolu, Computer Science & Engineering
Co-PIs: Prof. Varsha Apte and Prof. Bhaskaran Raman, Dept of Computer Science & Engineering